Address
Gabelsbergerstr. 35, 80333 München, Germany

The museum is completely wheelchair accessible.
You will find our lift at the back of the entrance portal. A path leads to it from both Arcisstrasse and Gabelsbergerstrasse.

Administration
Arcisstraße 16, 80333 München
+49 89 / 289 27 – 630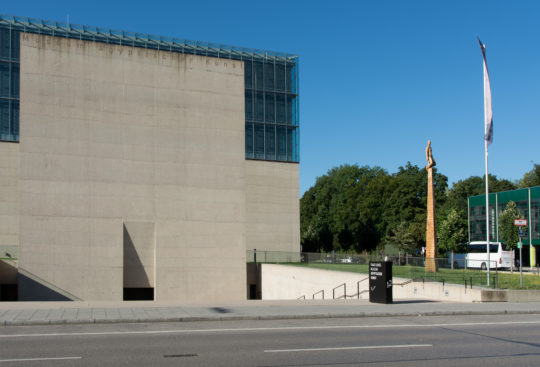 Opening hours
Tuesdays from 10:00 to 20:00 (10 AM to 8 PM)
Wednesdays to Sundays 10:00 to 18:00 (10 AM to 6 PM)
Closed on Mondays (except Easter and Pentecost Mondays)
The museum is closed on the following bank holidays
New Year's Day (January 1st), Christmas Eve (December 24th), Christmas Day (December 25th) and New Year's Eve (December 31st).
The museum is open on the following bank holidays:
Epiphany (January 6th), Shrovetide (Carneval) Sunday and Tuesday, Easter Sunday, Easter Monday, Good Friday, Ascension Day, Pentecost Sunday and Monday, the Feast of Corpus Christi, the Feast of the Assumption, the German National Holiday (October 3rd), All Saints' Day (November 1st), Penance Day and Boxing Day (December 26th).
Admission fees
Adults: 7 € (incl. MediaGuide)
Reduced; 5 € (incl. MediaGuide)
Sunday: 1 € (MediaGuide 1 €)
Children under 18: free (MediaGuide 1 €)

You can order your tickets in advance via MünchenTicket | 089 54 81 81 81 or buy it at the cash desk in the museum.
Transportation
Public transportation
You can reach the museum using:
metro lines ('U-Bahn') U2 and U8 (Königsplatz stop)
tram line 27 (Karolinenplatz stop)
bus line 100 (Pinakotheken stop)
all commuter rail lines ("S-Bahn"; Hauptbahnhof stop)
The museum is about 10 minutes walking distance from the main train station (Hauptbahnhof).
Parking
There are paying parking spots for cars and busses available in the streets around the museum.
Planning your museum visit
A limited number of pushchairs and baby-slings for babies and small children can be borrowed for free at the information desk. Please understand that oversized prams and pushchairs are not allowed in the exhibition.
A limited number of wheelchairs, walking frames and canes are also available at the information desk upon request. Portable folding chairs are available at the entrance to the exhibition halls.
For group visits (even without a guided tour), please book an appointment beforehand. (+49 89 / 289 27 – 626).
Photography is allowed only without flash or tripod.